Home
Refresh Bold
If you are reading this you're Localist customer who is ready to give their platform a makeover! This means our team of experts is here to help you take a comprehensive look at your platform and give it a makeover, both aesthetically and structurally. We can't wait to see what magic we're able to create together. Please complete the form below once you have read through this guide. By completing the form, you are certifying that you have read this guide in its entirety and that you are ready for your Platform Review and to move forward with your new package.
Roadmap
Are you new to Localist entirely and need a total overview before you can hope to begin? Or are you a Localist pro looking to take your calendar from good to great? Never fear, we are ready to work with you! Below is a breakdown of our suggested path. In bold is what everyone should do, and the regular items are all included in your package, but optional depending on your needs.
Optional Kickoff Call (this is for those who are new to Localist and need/want a rundown of the features)
Full Platform Review
Build Strategic Plan
Filter Audit
New Branding
Check-in Calls
Review of Platform Metrics
The Refresh Bold process is tailored to each customer's needs, so the above list is merely a starting point!
Scope of Work
What follows is a high-level comparison of what actions and services are included and excluded as a part of your Refresh Bold package. If you have any questions about what is outlined, please consult your Implementation Specialist.
| Action | Included | Excluded |
| --- | --- | --- |
|  Bulk uploading of events from customer-provided spreadsheets |  Bulk uploading any event spreadsheets that are provided by the customer, according to the customer's specifications |  Individually adding, editing or approving events |
|  Calendar setting changes |  Configuring settings according to the customer's needs |  n/a |
|  Channel management |  Building Channels according to the customer's specifications, including HTML blocks for architecture |  Custom JavaScript development and building features on demand for a Channel |
|  Custom CSS/Theme Editor |  Implementing CSS and Theme Editor changes per the Refresh Bold Branding Guidelines |  Anything outside of information architecture, building features on demand and custom JavaScript development |
|  Feed configuration |  Configuring feeds provided by the customer |  Identifying and curating feeds from external sources, approving feed events and managing content in external applications |
|  Landing page management |  Reviewing and uploading any customer providing spreadsheets. |  Identifying and curating info from external sources. |
|  Newsletter creation and design |  Building and designing newsletters to the customer's specifications |  Managing recipients and scheduling/sending newsletters |
|  Photo Library management |  Updating the Photo Library per the customer's request |  Creating or curating images. |
|  Informational boxes |  Creating boxes or CTA's to the customer's specifications |  Building out linked content or scripting copy |
|  Brand Template |  Building and designing your Brand Template off an already existing web page. See "Branding" tab for more information. |  Designing from scratch, changing the customer's main website and JavaScript development. See "Branding" tab for more information. |
|  Submission Guidelines |  Localist will draft the copy based off of customer's workflow and policies that are shared through a short survey. Once approved by the customer, Localist will implement. Styling is included with Custom CSS/Theme Editor action. |  Drafting guidelines for the customer. |
|  Tailgate configuration and asset design |  Designing and implementing icons, a splash screen and colors. |  Custom feature development. |
|  User permissions |  Updating existing user's permissions. |  Manually adding users. |
| Widget creation and design |  Building and designing widgets to the customer's specifications. If given access to CMS, Localist will add a homepage widget. |  Localist Widget Builder only (no API development), changes to the containing page and embedding widgets outside of the website homepage. |
Check-in Calls
A Refresh Bold Check-in Call is a regularly scheduled call with your Implementation Specialist. The purpose of these calls is to establish regular check points to keep everyone up to date and held accountable to the specified timeline and to-do list.
How it Works
Refresh Bold includes a maximum of SIX Check-in Calls that will last a maximum of THIRTY minutes each.
Schedule
Your Implementation Specialist will work with you post-Platform Review to craft a schedule and cadence that best suits your team and timeline. Once confirmed, your Implementation Specialist will send your team a calendar invite that includes call-in and screen share details.
What Will Be Covered
There are three main topics that will be covered in each check-in call:
Branding/customization needs and updates. Example: Confirming a change was made correctly.
Status updates on tasks (Localist and customer). Example: Relaying roadblocks, questions and timelines.
Strategy discussions. Example: How might you optimize your workflow in Localist?
How to Prepare
The day before the call, your Implementation Specialist will send an agenda for the call. These calls should not be used as a time to review emails and updates for the first time or to have internal discussions. To ensure that your time with your Implementation Specialist is productive and effective, please respect the following guidelines.
Read all emails from your Implementation Specialist thoroughly and completely before the call.
Send additional questions and topics you'd like to review during the Progression call before the call.
Only include team members who are 100% up to speed on your implementation process and the platform.
If a decision is not applicable to your Implementation Specialist, please hold these discussions until after the call.
The Fine Print
Check-in Calls are provided only during the agreed upon 30 minute window designated in the calendar invite. As such, here is the process for rescheduling:
Running behind: If your team or main decision maker is 5-10 minutes late, the call may continue but it will conclude at the original end time. In the event that the team or main decision maker is 10 or more minutes late then the call will be rescheduled at a later date and time. Please let your Implementation Specialist know as soon as you know you are running behind so that they can adjust the agenda or leave the conference line.
Rescheduling: A minimum of 3 business hours notice is required for free rescheduling. If you need to reschedule after the 3 hour window or are more than 10 minutes late, the unattended call will count towards your six calls.
The Branding Process
Branding Survey

Branding development will not commence until Localist receives a completed survey.

Localist can only guarantee a 30 business day turnaround for a complete branded platform starting from the day the survey is submitted.
All styles must be clearly defined in the survey or available in Brand Template or web page URL. Branding cannot be based off of customer created mock ups.

Brand Template

Localist applies the customer's Brand Template. This tools is what adopts your website's header and footer around your Localist content.

The header and footer to be used in your Brand Template must already be fully built, styled and available together in the same template or web page URL. Localist will not build, customize or piece together header and footers from different pages.
All assets provided in the wrapper source (CSS, images, etc.) must be served over secure (https) links if SSL is to be implemented on your Localist platform.
If requested, Localist will add a customer provided hero image to the wrapper if the template does not include one.
JavaScript development and/or modifications of any kind are not included. These include, but are not limited to, drop-downs, pop-ups or expands.

Styles

Localist will remedy any CSS conflicts and apply the following CSS customizations where applicable to the customer's brand:

Font families and sizes
Colors and background colors
Borders
Shading

Responsive Design
Localist will maintain the responsiveness of the Brand Template and Localist platform only if the SILK template is responsive. If the template or web page is not responsive, corrective CSS will not be implemented.

Theme Editor
In addition to the above CSS customizations, Localist may also complete the following HTML Theme Editor customizations per the customer's request.
Change photo sizes for listings and landing pages.

Add customer drafted guidelines to the public submission form.
Replace and/or add customer provided links and/or content to the "Share Events" box on the platform's homepage.
Language and time format changes.

First Draft

Once the Brand Template and style clean up has been completed by Localist, the customer will receive a completed draft. At this time the customer may request changes to only the above mentioned CSS and Theme Editor customizations.

HEADS UP: All changes require a 2 business day minimum turn-around.

Final Approval

After the requested changes have been implemented and approved, the branding portion of Refresh Bold will be complete.
Sample 30 Business Day Timeline
The following timeline reflects the maximum amount of time (business days) required between each step.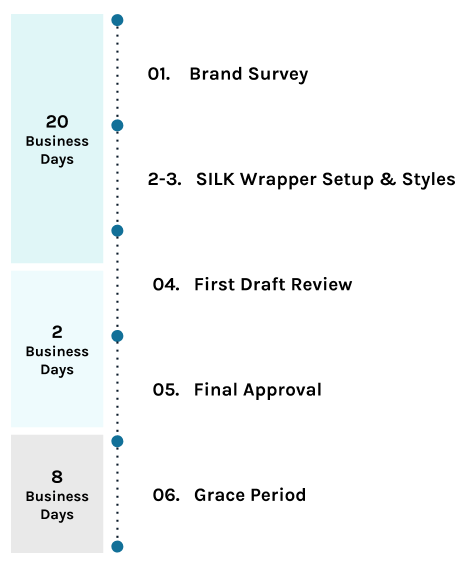 Brand Survey
Localist can only guarantee a 30 business day turn around from the day the Refresh Bold Branding Survey is SUBMITTED to us. If your header/footer changes, then the 30 business day timeline starts over. Contact support@localist.com if you have any questions.
Was this article helpful?