Home
Emphasis
Emphasis is an all new platform wide theme that has been designed so that your events can shine through as your brand. To check out Emphasis in the wild, start here:
Frequently Asked Questions
Expand FAQ

Is there a cost associated with upgrading to Emphasis?

No! Upgrading to Emphasis and taking advantage of the new included features is 100% included in your license.

How can we tell if our platform is already using Emphasis?

If your platform is set up with event listings on the left with an exposed right content sidebar, you are using Legacy. If your platform is a one column layout with event cards, congrats — you've already upgraded to Emphasis!

What role will the Localist Team play in upgrading from Legacy to Emphasis?

The Customer Experience Team is here to do the heavy lifting for you! We will spin up Emphasis in your Staging Environment and adapt the colors, fonts and overall styling to align with your brand. Once you're ready to upgade your production platform, the CX Team will put everything in place on your behalf.

Will we be able to provide feedback before our production platform is upgraded?

Absolutely! Once a final draft point has been reached, you will receive an email inviting you to review the mockup. The CX Team will also provide a collaborative Google Sheet for you to log feedback and track progress.

Can we upgrade our platform to Emphasis instead of the Localist Team?

Of course! While you will still need to coordinate with the CX Team to get started and eventually transition the theme from staging to production, your team is more than welcome to take the reins on reimagining and implementing your branding with Emphasis.

Can we pick and choose which elements of Emphasis to adopt?

Emphasis is a platform wide theme and as such, it is all or nothing. To use any of the new features/styles highlighted below, you will need to upgrade your platform in its entirety.

Can we schedule a time to upgrade to Emphasis?

Yes! The CX Team is available to transition the approved Emphasis theme from staging to production any weekday from 9-5 ET. Upgrading your production platform takes only a few minutes and no downtime is required.

Will the Admin Dashboard change when we upgrade?

The only changes to the Admin Dash are in place to support the new features. For example, a "Card Size" option has been added to the Event List component in Channels. However, the overall layout and general back end management tools, such as editing Filters, adding Places or approving events will not change when you upgrade to Emphasis.

Will upgrading to Emphasis impact our Widgets, the API or feed data and displays?

Not at all! Emphasis is a platform-only upgrade only and will have no impact on how you are displaying or ingesting content on other websites.

Where can I see customer examples/customizations of Emphasis?

You can find find these in our Emphasis bookmarks doc: https://support.localist.com/bookmarks/!

What impact does Emphasis have on my calendar's existing content?

What you see is what you get display-wise, but populated with your platform's content such as events and Classification. Migrating to Emphasis will not remove any of your platform's existing content, just an update to how it displays your content.
Setting Up Emphasis
Expand Instructions

Process Overview

Submit the "I'm Ready for Emphasis" form below to let the CX Team know you're ready to explore Emphasis.

A team member will be in touch to confirm your submission and will begin transitioning your Staging Environment to Emphasis.

Review your Emphasis mockup

Once a final draft point has been reached, you will receive an email inviting you to review the mockup. The CX Team will also provide a collaborative Google Sheet for you to log feedback and track progress.

Schedule your Emphasis upgrade

After finalizing your new Emphasis theme, the CX Team will coordinate a date/time to migrate the new design to production.

I'm Ready for Emphasis!
Emphasis Exclusive Features
Channels
Channel Cover
A more prominent display is now available for Channel cover photos. Channel Admins also have the option to add a bold, solid background in the color of their choice.
Solid Channel Background

Channel Cover Photo

Channel Cover Photo With Color Overlay

Channel View
Users can now choose from 3 different layouts for displaying events on a Channel. Admins can now set a different display for each Channel by making a selection in the Card Size drop-down option in the Channel Layout Editor for each event list.
Small Card

Medium Card

Large Card

Card Size Field In Channel Layout Editor

Navigation
Pop-Out Drawer Navigation
Platform navigation is now housed in a clickable drawer to allow more focus on event listings. Users can easily access all additional Channels, Widget Builder and Group/Department directories.
Event Filtering Options
In addition to filtering by specific event Classifiction, users can now filter events by when they are occurring. Select from Today, Next 7 Days, Next 30 Days or choose a date from the Mini-Cal.

Users can select multiple Filter items to sort by for each Filtering option by clicking on the box next to each Filter item they wish to include in their search.
Submit An Event Component
Your calendar's homepage now comes equipped with a more prominent call to action to encourage your community to submit events. This comes in the form of a component in the Channel Layout Editor.
Layout Editors
Global Event Layouts
The Global Event Layout Editor allows for a streamlined layout for all Event Detail Pages on your platform. Select as many components as you feel necessary to provide users with the maximum amount of event details. Just like with Channels, you can arrange these components by dragging and dropping them to the desired position on the page.
Global Event Layout

Global Event Layout Components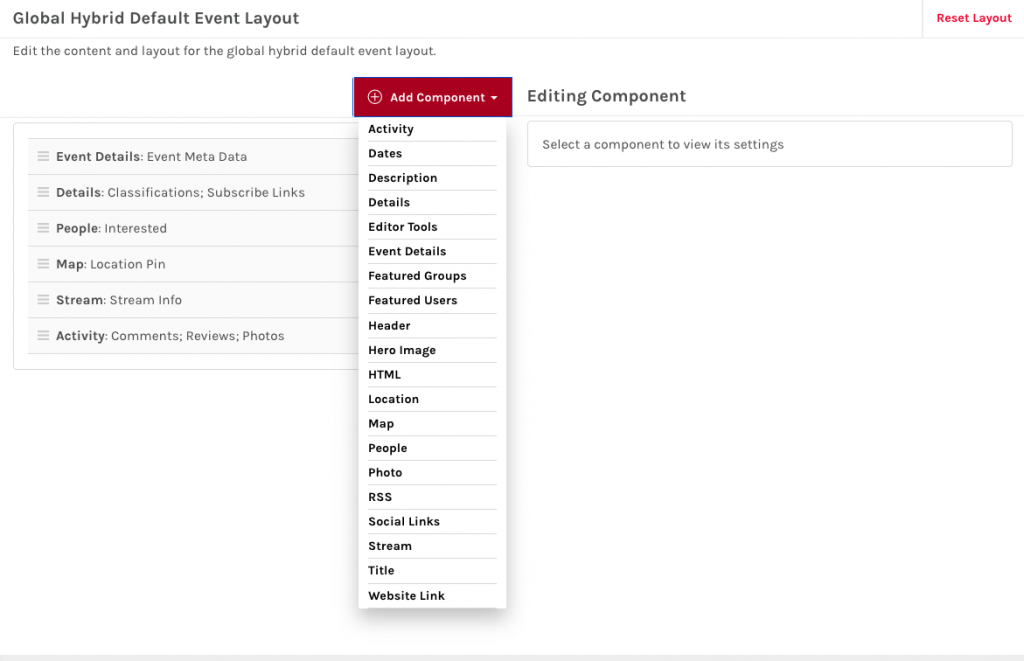 Per Event Layouts
Per Event Layout Editor allows Admins to set a custom layout for any single event regardless of what the Global Layout is set to. This is great for events that may not require certain components or for the addition of more complex components such as custom HTML.
Customize Layout Tab on Admin Event Form

Per Event Layout Editor

Event Layout Editor Components
Featured Speaker + Group Components
The addition of the Featured Speaker and Featured Group Components in the Event Layout Editor allows Admins to select a User and/or Group to be highlighted on the Event Details Page. For example, the Featured Speaker component can be used to highlight a set of speakers that will be presenting at an event. Just add each speaker as a User then they'll be eligible to be selected as a Featured Speaker.
Featured Speaker

Featured Speaker on the Event Details Page

Featured Group

RSS
Previously only available on the Channel Layout Editor, the RSS component is now available for all events on your platform using the Global Event Layout Editor. This allows Admins to include an RSS feed of events to each Event Details Page.
Hero Image
The Hero Image component allows Admins to set an eye-catching photo to display alongside event details.
Social Links
Facebook, Twitter, and Instagram links are now available to display on individual Event Details Pages using the Social Link Component. The prominent display allows users to easily share events on social media and spread awareness of events happening in your community.
Website Link
Add a link to an external website, like an addiitonal information page right on invididual Event Details Pages.
Events
Public Event Submission Form Editor
The Submission Form editor allows Admins to pre-set the options they would like displayed to their users on the Public Event Submission Form.
Google Maps Quick Links
The Google Map component now includes quick links for public transit, car and walking directions. Upon clicking on these links, users will be directed to the corresponding Google Maps results page.
"New" Tag
To give users more insight on new and interesting events on your platform, a "New" Tag is now automatically included on event cards for events that have been approved within the last 30 days.
Featured Carousel Controls
The Featured Carousel component now has a play/pause button that starts and stops the slider.

Was this article helpful?